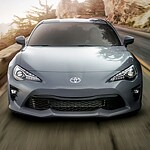 Nearly everyone has to drive. What you don't have to do is have a boring car. Anything but boring, the Toyota 86 is a sports car meant to spice up your commute, weekend, or even race day. Built with innovative Toyota design and technology this popular sports car offers a cabin fit for a race car driver.
Sporty Inside and Out

The 2020 Toyota 86 has a sporty and athletic exterior design that is made to turn heads. There's no reason for the fun to stop with the exterior design. In the interior the 86 boasts a daring and sleek interior built for fun. Sport seats are standard on the 86 while there is also an available red trim and accent appearance package.

Feel Every Corner

A smaller ergonomic steering wheel allows drivers to have complete control over every twist and turn. Included on the leather wrapped steering wheel are audio controls. With these controls you'll never miss a second of fun by having to reach for the dial.
Sport and Fun

? Step away from the ordinary and take a step into an exceptional sports car. Stop by and see us at Carlson Toyota to enjoy a fun driving experience offered by the 2020 Toyota 86.